Jun, 18 2018
Four Innovation Awards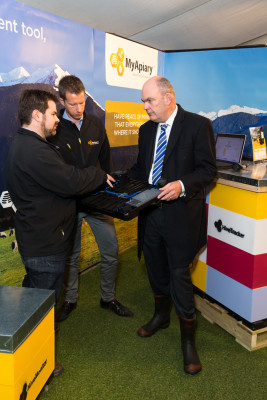 The team from MyApiary certainly had something to be buzzing about last week, receiving four awards at the Fieldays 2017 Innovation Awards. The accolade comes at an opportune time for the Hamilton based smart tech company that is just launching its software product for commercial beekeepers.
Co-Founders Darren Bainbridge and Carl Vink along with marketing intern Steph Fankhauser were presented with the awards during the Fieldays Innovation Awards presentation breakfast on Thursday last week. With over 80 entries and a total of 10 awards on offer, the MyApiary team managed a solid performance.
"We were absolutely stoked to get such great recognition", says Darren Bainbridge. "We were all just stunned as they called us out for each award, a really great moment for the team".
The awards presented to MyApiary were the Vodafone ICT Award, Callaghan Innovation Partnership & Collaboration Award, Tomkins Wake IP and Commercialisation Award and the Fieldays Grassroots Prototype Innovation Award.
MyApiary has taken a different approach to providing technology solutions for beekeepers and the direction is clearly starting to pay off. "We spent a long time talking with beekeepers about their businesses and the challenges they were facing. We found that they were very confident about growing their hive numbers and producing more honey, but they were seriously struggling with managing the business side of their growth. What was working when they were small just simply didn't cut it as they grew", says Carl Vink.
"It became increasingly clear that an operations and performance management tool was urgently needed. We began to build a product that could help beekeepers with record keeping, scheduling jobs and running staff teams, as well as proving reports on how much their different apiary sites were costing them to maintain and service", says Vink.
As well as developing a software solution, bringing a physical hive monitoring product to market has always been at the heart of the MyApiary team and Bainbridge explains why, "Beekeepers were definitely interested in what remote monitoring information could provide in terms of improvements in practice, but they just didn't have the systems to handle all the data. By creating a software solution first we've been able to help bring beekeepers onto a technology platform that will then enable the best use of monitoring data when it is released next year".
With the next exhibition event scheduled for the Apiculture 2017 conference in three weeks, there won't be much time for the team to celebrate, "It is all go for the next month in preparation for the conference as well as responding to a lot of interest we've had in the past week from new customers", says Bainbridge.